mediaHYPERIUM3 (mH3)

Dedicated to delivering music for the new era of entertainment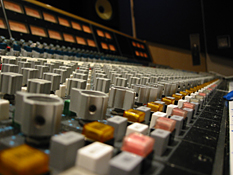 mH3-Signature Sound is a digital music service and record label focused on delivering state of the art immersive listening experiences to its clients. It produces and offers true artistic surround sound mixes, tailored to specific playback environments. Recordings are offered in different surround mix versions for the home, automobiles and mobile devices.
Our Mission
We are committed to deliver music for the most immersive listening experience in any real live playback environment and offer the most versatile and interconnected music service available.
Our Philosophy
There is a true artistic element in surround sound that only comes to life when humans--musicians, producers, engineers--are involved in the production process. Spatial sound stages generated by computerized up-mix engines cannot approach the "Art of Surround Productions."
We believe a surround mix should be dictated by the singularity of the piece of music. Each composition has its own rules and internal rationale. Technical expertise and artistry must inform every decision about the playback location of each of its elements.
Our Goal
Our goal is to create total immersive listening experiences that enhance the audio quality and convey the authenticity of each musical performance in surround playback.
Team Member Spotlight

Herbert Waltl, Senior Producer & CEO


Herbert is one of the first professional DVD producers, creating DVD Video content for Philips' Key Modules even before the format was established and introduced in the market. He produced the first 5.1 surround mix in Los Angeles for PKM and Philips Research, and the first 16 track DSD recording. He was nominated for a Grammy in 2004 for Best Jazz Instrumental Album for Chick Corea's Rendezvous in New York and was awarded with two Grammys in 2005 for Album of the Year and Best Surround Sound Album, both for Ray Charles: Genius Loves Company.
read more »